Hey guys so I've been making beef in sauce for a while but didn't have a solid recipe down for you guys and now I do. I experimented using different kinds of cuts of beef and finally decided to make it with the beef pictured below.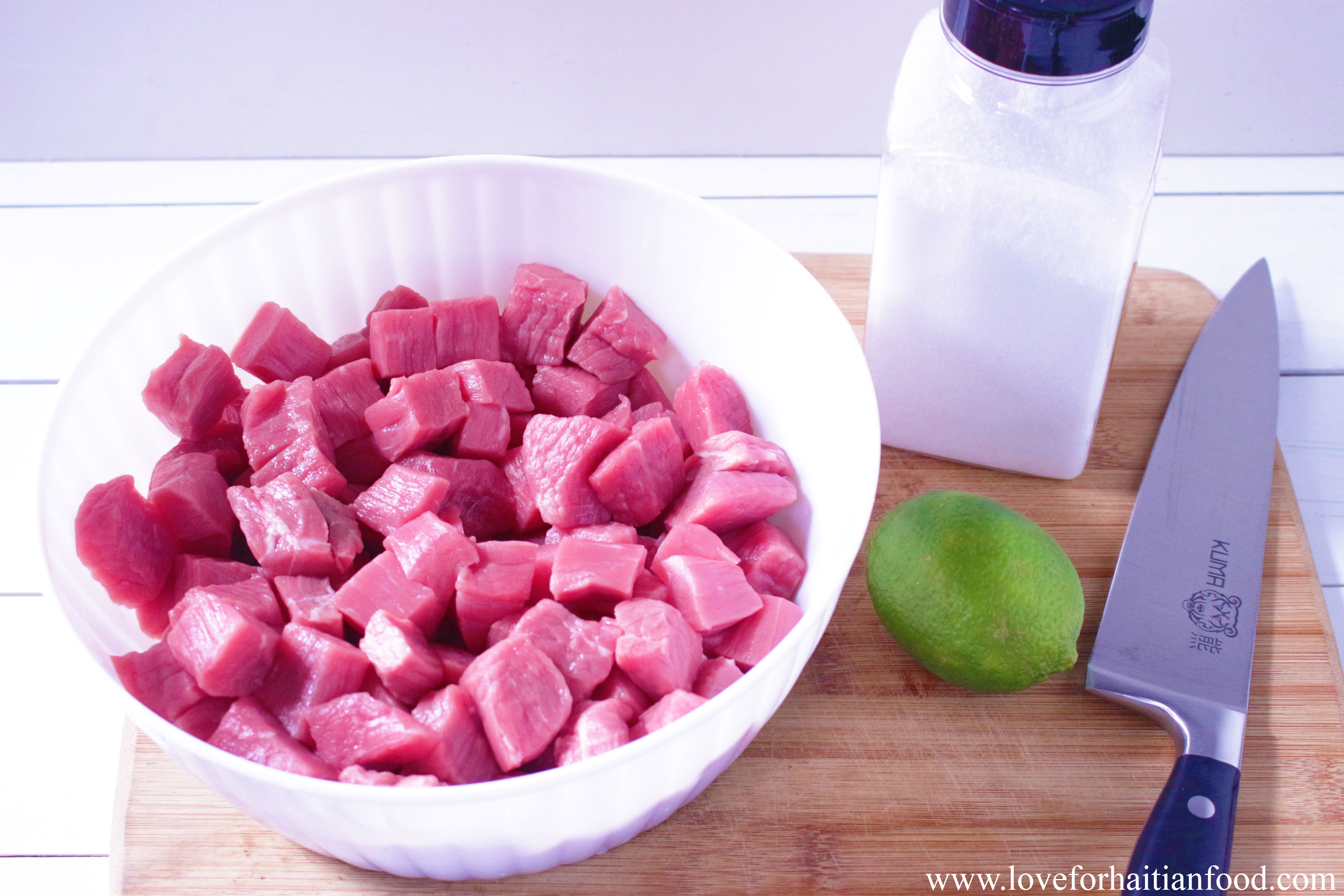 I was recently contacted by a company called Kuma Knives and they sent me two knives one for myself to review and one to give away to one of my subscribers (that give away is coming soon). I featured the knife in this video to show you this baby in action, it's super sharp and I wasn't struggling to cut into meat or vegetables like onions and peppers at all. Overall I really like it and that is my honest opinion.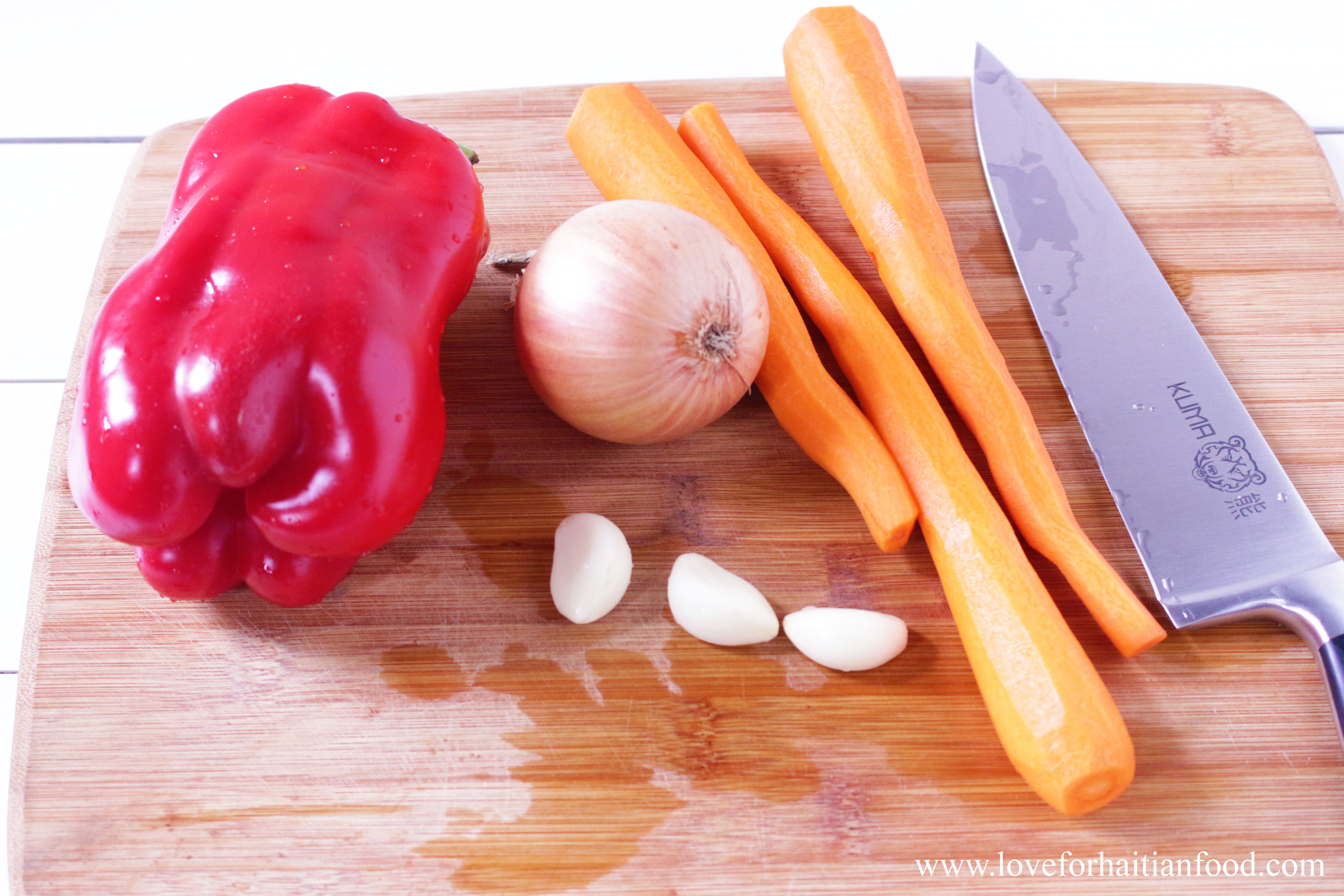 Back to the beef, this beef was so flavorful, definitely a recipe to keep in your repertoire. I served this with white rice and fried plantains and it was sooooo good!!!! This would also be great with Mayi Moulen (creamed cornmeal/polenta). I hope you guys try this and let me know what you think!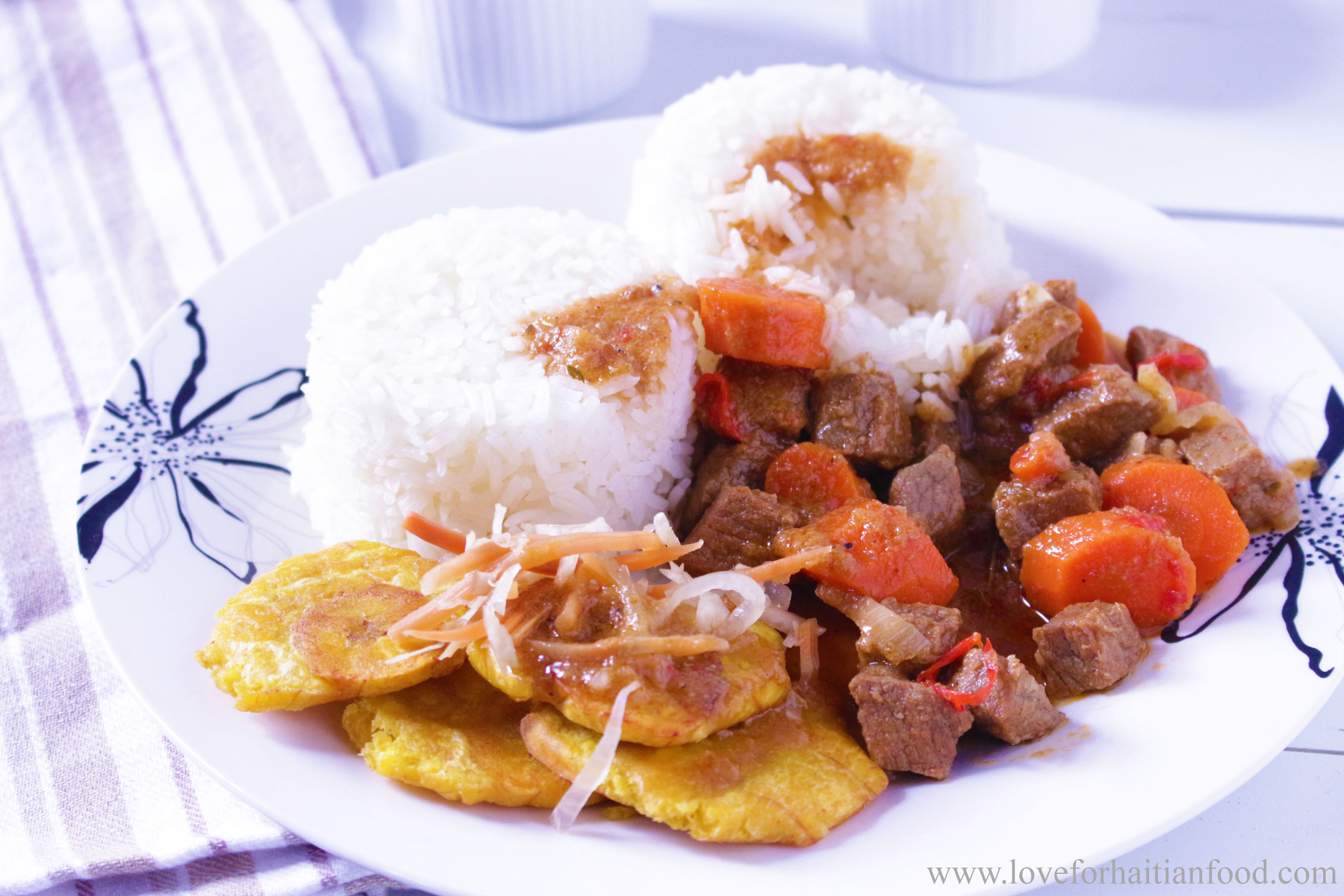 Watch me make Vyan Bèf nan Sòs | Beef in Sauce
Ingredients
2 lbs beef cubes
1 lime
½ cup epis
1 teaspoon salt-free blended herbs
½ teaspoon garlic powder
½ teaspoon onion powder
¼ teaspoon black pepper
1 teaspoon salt
1 tablespoon chicken or vegetable base
3 cloves or ⅛ tsp cloves
3 cloves of garlic chopped
1 small onion chopped (about 1 cup)
½ bell peppers, sliced
3 large Carrots, chopped (about 1 ½ cups)
3 sprigs of thyme
1 Hot pepper
1 ½ tablespoons tomato paste
¼ cup oil
2 -3 cups water
Instructions
1
Clean and season your beef by removing any visible fat, squeeze lime juice over meat and rub meat with lime halves. Sprinkle 1 tablespoon of salt over it and mix in with your hands.
2
Rinse meat with cold water and drain. Add epis, blended herbs, salt, garlic, onion powder, vegetable base and let marinate for 1 hour.
3
On medium to high heat add oil to sauté pan and once heated add chunks of beef, brown on both sides for about 10 minutes.
4
Remove meat and set aside. To the same pan add onions, garlic, tomato paste and mix for about a minute then add water.
5
On medium heat add bell peppers, meat along with hot pepper, thyme, cloves, cover and simmer for 30 minutes.
6
After 30 minutes has elapsed add carrots and cover for another 20 minutes. At this point check for salt and tenderness (if it isn't tender enough for you, reduce heat and let it go for another 10-20 minutes. Serve over mayi moulen or your choice of rice.