Baking is one of my favorite pass times. More like eating cake is one of my favorite pass times LOL. One of my favorite cakes is Haitian cake. I searched high and low for the perfect recipe and I couldn't find one that suited my preference.
I kept on finding recipes that had way too much of this ingredient and too little of that ingredient. So I decided to experiment with bits and pieces of different recipes until I came up with one I loved.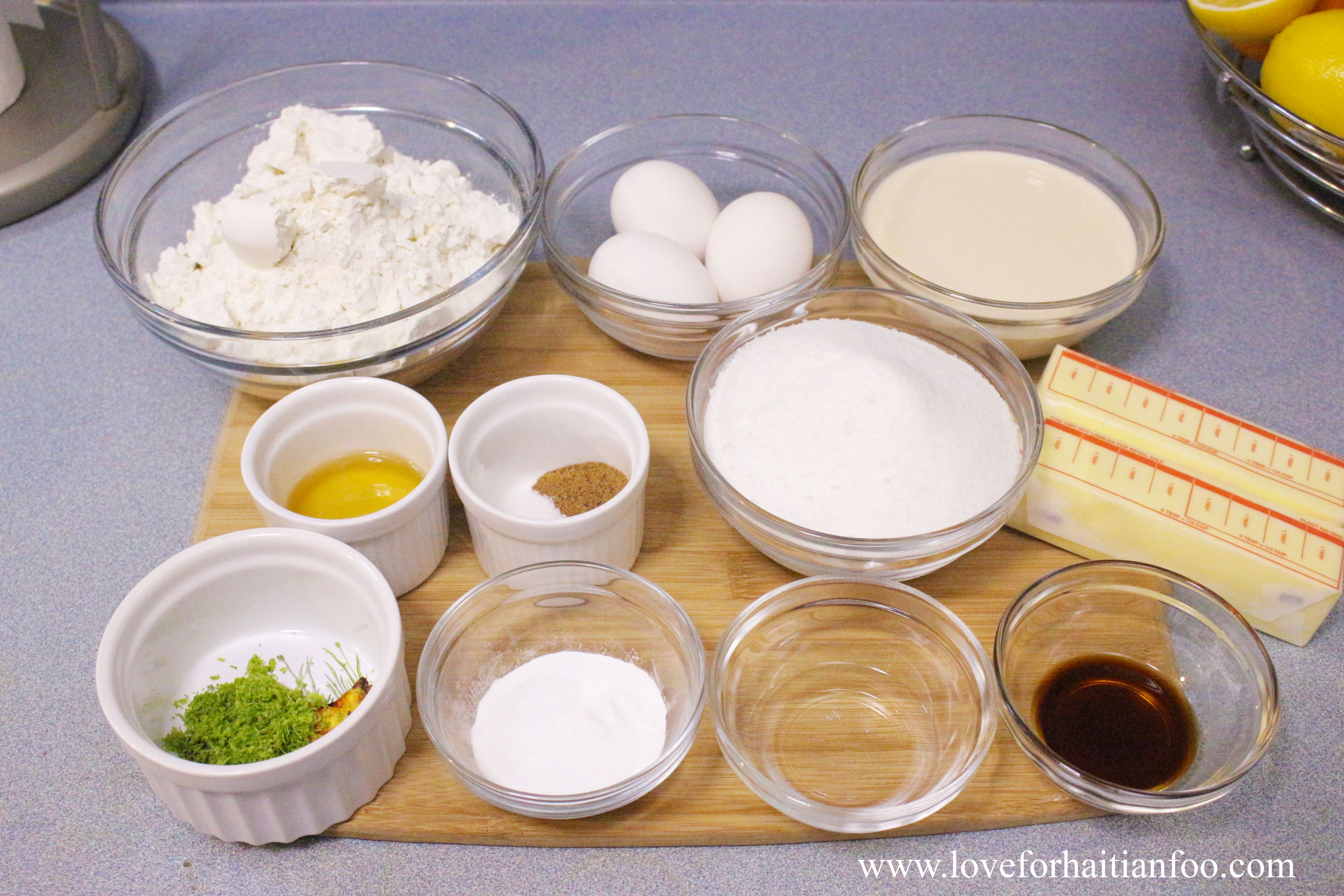 This recipe for Haitian cake doesn't have a ton of sugar in it, it's dense yet very moist amongst other good qualities.
I used Rhum Barbancourt in my recipe, you can use any rum but that's my favorite when making this, it is Haitian cake after all so why not use Haitian rum. I filled it with strawberry and pineapple filling (click on the words to be directed to those recipes) and frosted it with buttercream frosting. I went with two fillings simply because I'm greedy like that LOL.
I made the buttercream with both vanilla and almond extract to give it that authentic Haitian cake flavor. After so much trial and error I can honestly say I'm so proud of this and I hope you give this cake a try and love it as much as I do!
Watch me make The best Haitian cake here:
Ingredients
2 1/3 cups All Purpose Flour

1 teaspoon salt

1 1/2 teaspoon nutmeg

1 tablespoon + 1 teaspoon baking powder

1 1/2 cups granulated sugar

3 large eggs, whites separated and reserved

1 cup (2 sticks) unsalted butter

1 cup evaporated milk

2 tablespoons rum

1 1/2 teaspoons lime zest

1 teaspoon vanilla extract

1 teaspoon almond extract
Instructions
2
Grease and flour two 9-inch cake pans, set aside.
3
In a medium bowl, sift together flour, salt, nutmeg, baking powder and set aside.
4
Add rum to lime zest, set aside.
5
In a large bowl, using a mixer cream butter and sugar until light and fluffy. Add rum and lime zest and mix. Add vanilla, almond extract and mix. Add egg yolks in one at a time, mixing after each addition.
6
Gradually add flour mixture and milk, alternating between the two. Mix just until combined, do not over mix.
7
Beat egg whites until stiff peaks are formed, they should be fluffy.
8
Using a spatula, gently fold egg whites into cake batter. Mix just until combined.
9
Divide batter between cake pans and spread out evenly. Bake for 25-30 minutes (baking time may vary from oven to oven).
10
Remove cakes from oven and allow it to cool in the fridge for 1 hour or at room temperature on cooling racks. Be careful when removing cake from pans.
11
When cakes have cooled completely, frost with buttercream frosting.