Sòs pwa blan (white bean puree) like other bean puree's is delicious enough to stand on it's own, I have legit just eaten it and black bean puree (sòs pwa nwa) by themselves. That may sound weird but Haitian people actually do that, especially with sòs pwa nwa, li ba'w fòs (it gives you strength), it is protein after all!
The ingredients are pretty simple and easy to find so you shouldn't have an issue when getting them. Some people have asked me about the chicken base that I use and this is it here. I usually get mine from Costco or any health food store but if you can't find it substitute with a bouillon cube or just salt to taste.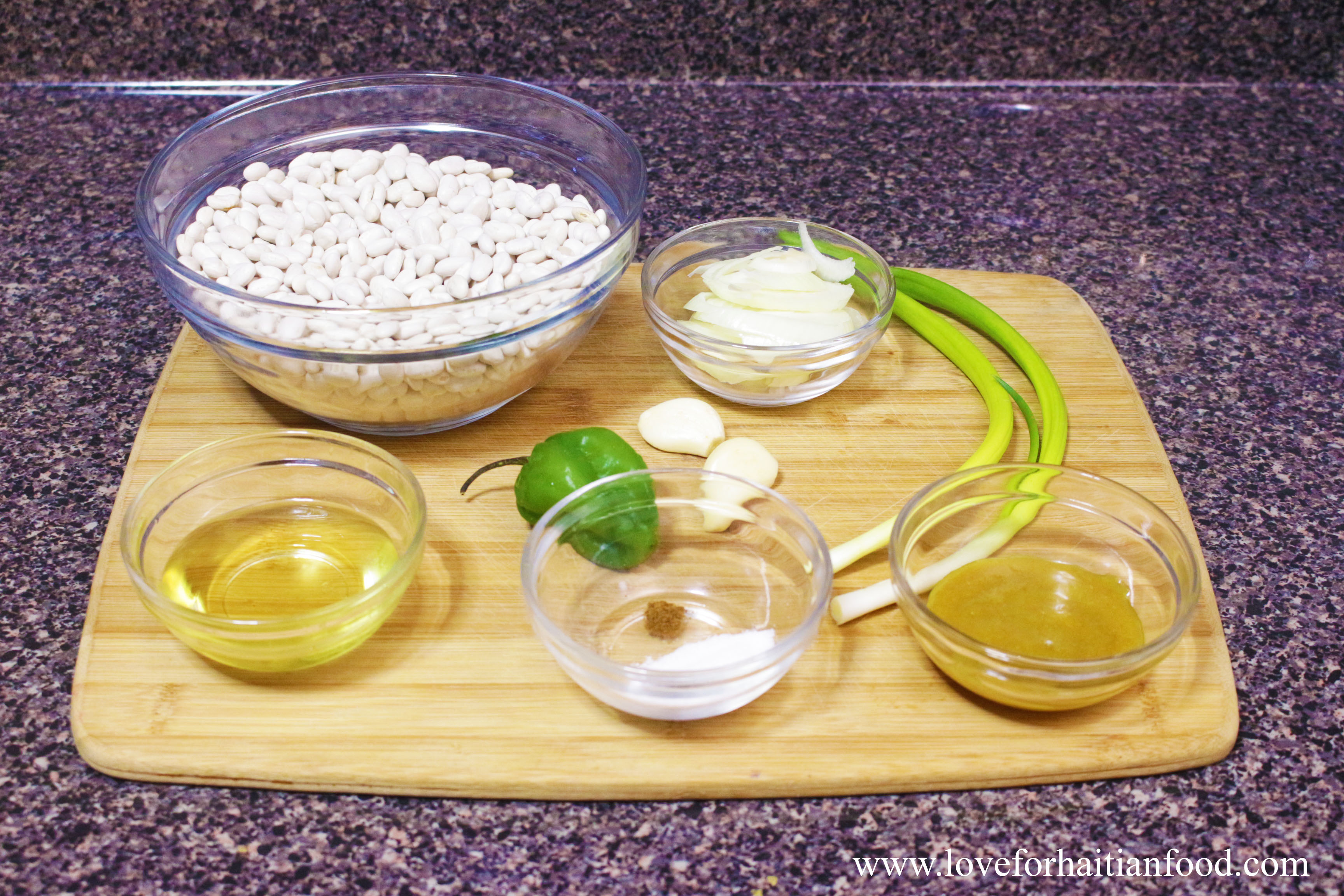 Watch me make Sòs pwa blan here:
Ingredients
1 bag (16 oz) Great Northern Beans, rinsed
3 garlic cloves
2 sprigs scallions
1 ½ teaspoon salt
Pinch of clove powder
⅛ cup olive oil
¼ cup sliced onions (1 small onion)
1 ½ tablespoon chicken base or a bouillon cube
1 hot pepper
Instructions
1
In a medium pot on a high heat bring 14 cups of water, garlic, scallions and beans to a boil. Boil for 1 hour to 1 hour 20 minutes (make sure to watch beans so they don't get too soft).
2
Once beans are cooked remove 1 cup of beans and reserve. Blend the rest along with the garlic and scallion with the liquid. If liquid isn't enough add water ( start by adding 1 cup of water and continue as needed).
3
Add salt, clove powder and continue to blend for a few seconds. Pour bean puree back into the pot along with the 1 cup of reserved beans. Return to a low heat and add chicken base, hot pepper and mix.
4
In a small pot on a high heat add oil, after about a minute or two when oil is hot fry onions for 1 ½ minutes and pour onions along with oil into bean puree and mix. Salt to taste.
Notes
The water will evaporate during the boiling process so you will need to add additional water as necessary (I added about 4 additional cups).