Mayi Moulen is a staple dish in Haitian cuisine. It is a fast and simple meal that can be eaten at any time of the day and is just as important to Haitians as rice is. Most like to enjoy it with sòs pwa nwa (black bean puree), mori (salt fish), alone or with other foods.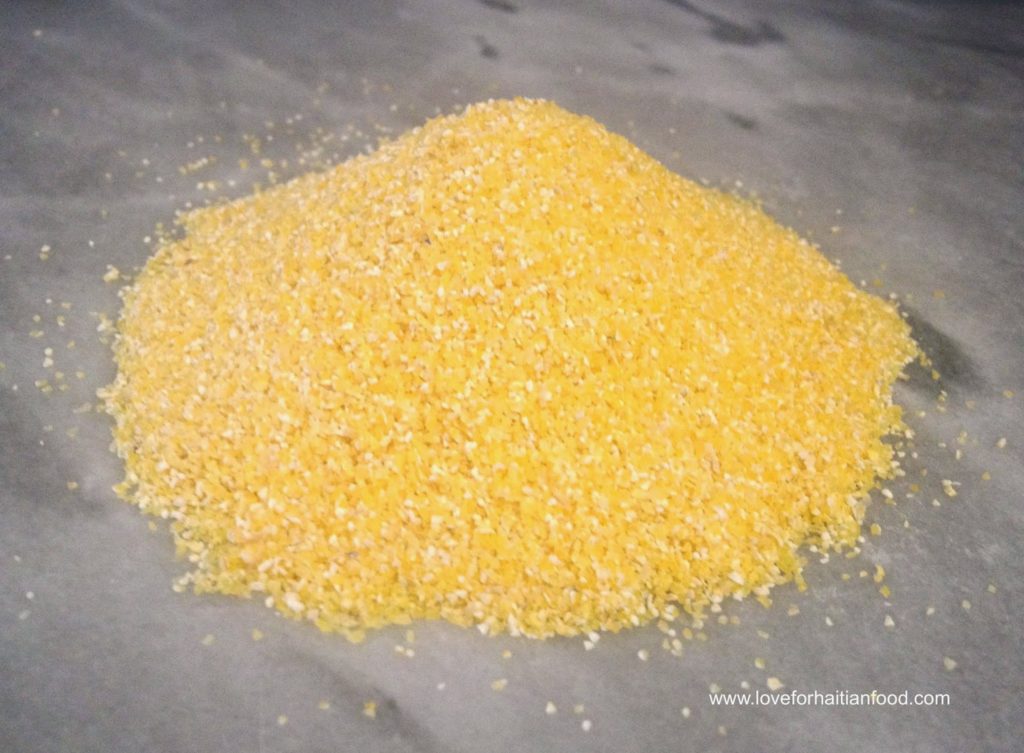 The cornmeal I cooked in the video was a finer cornmeal and my mom was not a fan of it; she told me "Pa achete sa ankò" (Don't buy this any more) LOL. She prefers the larger grain cornmeal, Number 16 to be exact (pictured below).
There are different recipes for Mayi Moulen, I'm displaying the plainest one of them all. In a future post I will give the recipe for Mayi Moulen ak Aransò (cornmeal with smoke herring).
With just a few ingredients, Mayi Moulen (cornmeal) is very simple to make and I hope you give it a try. Watch me make it in the video below.
Watch me make Mayi Moulen here:
Ingredients
1 1/2 cup of yellow cornmeal/grits (rinsed)
1 tablespoon oil
1 tablespoon salt
1 garlic clove, crushed
1 tablespoon butter
4 cups water
Instructions
1
In a small pot heat oil on low heat. Sauté garlic for a few seconds, quickly add water and salt to the pot before the garlic browns.
2
Bring water to a boil then add butter. Slowly add cornmeal making sure to stir consistently to avoid clumping.
3
Once cornmeal has thickened continue to stir, if you find it is too thick adjust it by adding water. Cover and let cook for 15-25 minutes. Your finished product should be very creamy in texture, serve while hot with your choice of side.