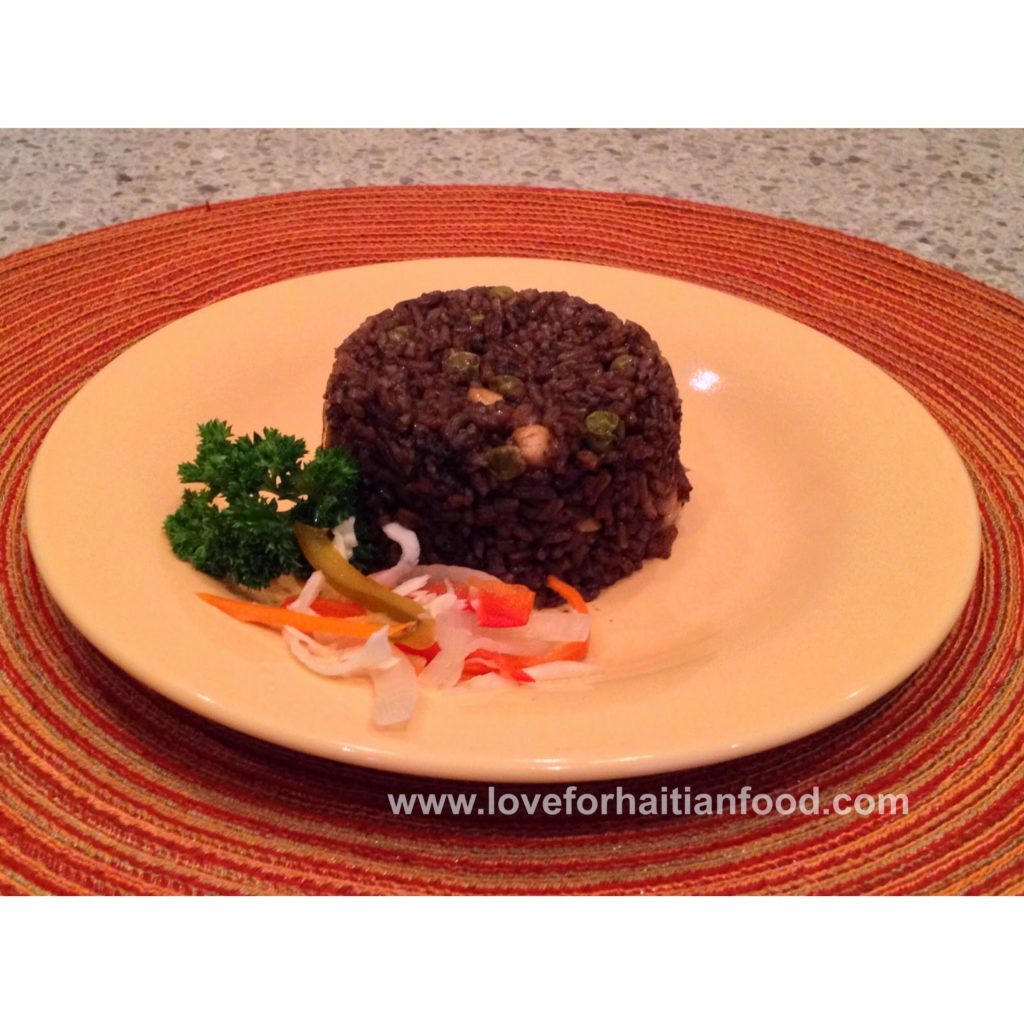 Diri ak Djon don (Black mushroom rice) is such a popular dish for Haitians and non-Haitians alike. When there is a Haitian function wether it be a wedding, birthday party, a communion or whatever, it is expected and anticipated that Diri ak Djon djon will be there.
This popular rice dish is usually reserved for special occasions and Sundays so don't expect it any other day during a regular week.
I believe the rice is so popular because of it's dark color, it's intriguing damnnit!!! Aside from it's rich dark color the smell is so captivating. One whiff of this stuff and your stomach is sure to rumble as you will instantaneously become hungry.
Now I hope you guys didn't come here to read up on what fungi family black mushrooms are from because if you did you're fresh out of luck with me. My goal for this post and video is to show you how I was taught to make it. Alls I can tell you is this: it's grown in Haiti, northern to be exact (or not) LOL. To get the rice black you basically boil the mushroom in water which extracts the color into the water then you cook the rice in that dark liquid, season it up and voila.
Where to buy Djon djon?? How the heck should I know, oh wait I did do the video right?? I kid I kid guys. I can only tell you where to get it from in Brooklyn, NY because that is where I live. There is a mini mall on Flatbush Avenue and Caton Avenue where several vendors with booths sell their items inside. There are Haitian women who sell Djon djon and other Haitian items throughout the mall. Another location is pretty much up and down Nostrand Avenue or Church Avenue & East 18th Street; I don't have specific locations because some of the women who sell the mushrooms are selling it out of vans and they move from spot to spot sometimes. Another option to buy djon djon is online at
Sam's Caribbean
 <—– Click the link.
This is kind of a Thanksgiving recipe but not really, as I mention in the video, the thanksgiving "holiday" is not celebrated in Haiti. But being Haitian-American/Haitian-Canadian we have adapted to American and Canadian culture and sprinkled some of our own into the mix; can't forget our roots now. I said that to say this, 9 times out of 10 most Haitian families will have Diri ak djon djon at their dinner table for Thanksgiving.
This post was long awaited and now it is finally here!!! Side note: I didn't rinse my rice in this video, please don't crucify me (Haitians never cook rice without rinsing it first) I was pretty tired that day so it slipped my mind (I hang my head in shame)
I really hope you guys enjoy this, happy cooking and Happy Thanksgiving!!!
Watch me make Diri djon djon ak kribich here:
Diri Djon djon ak Kribich (Black mushroom rice with shrimp)
Print Recipe
Ingredients
1/2 lbs of shrimp, deveined (optional)
3 cups white jasmine rice
2 cups dry djon djon (black mushroom)
1 1/2 cup frozen green peas
1 1/2 cup of cashews
2 cloves garlic, peeled and crushed
1/4 cup epis
1/4 teaspoon clove powder or 2-3 whole cloves
1/2 teaspoon salt (or to taste)
1/2 teaspoon salt-free herbs
1 boullion cube (any flavor)
1/2 cup oil
2 sprigs of thyme
1 scotch bonnet
Instructions
1
In a large pot add djon djon and 8-10 cups of water and bring it to a boil. Once boiled, use a strainer to drain and set liquid aside. You can either save the djon djon for future use by storing it in a sandwich bag in the freezer or discard it.
2
Rinse rice with cold water to remove surface starches and set aside.
3
Clean shrimp by removing the shell, head, tail and veins. Rinse with water and set aside.
4
In a medium pot heat oil on medium heat and sauté garlic. After about a minute add shrimp, dry spices, cashews, epis and green peas and continue to sauté.
5
Add 5 1/2 - 6 cups of the reserved liquid to pot along with thyme and scotch bonnet. Let it come to a boil then add rice and mix.
6
Once liquid has evaporated, lower your heat and cover rice to allow it to fluff up.
7
After about 20-25 minutes turn your fire off. Let it sit for 10 minutes then serve