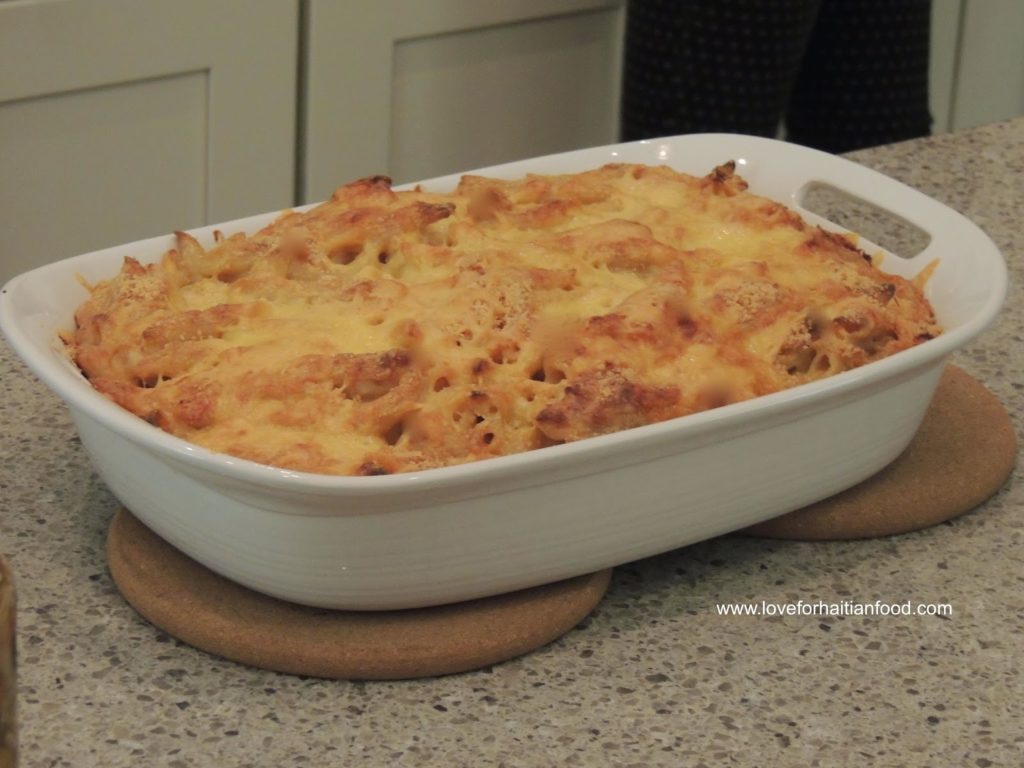 Makawoni au Graten (correct Kreyòl spelling), also called Macaroni au Gratin (I think that's the French spelling) is one of the dishes I definitely look forward to having anytime. I'm a big cheese fanatic and I grew up eating it so lets say this is a dish that is very near and dear to my heart.
What is the difference between Haitian mac & cheese and "regular" mac & cheese you ask? Well the biggest difference are the noodles used to make it, we use penne, rigatoni, etc; basically big noodles (no elbow macaroni here). Another difference is we put mayonnaise in ours as well as other delicious ingredients that will be revealed to you once you watch the video.
There are so many different kinds of recipes for Makawoni au Graten all over, some people add ham, some people add chicken and etc (they sound delicious). But the one that I grew up with was the very simple version of it; you boil your noodles, add butter, peppers, onions, evaporated milk, salt or seasoned salt to season it, mayonnaise, grated parmesan cheese and bake it. Now a couple of years ago while working on recipes with my cousin Geraldine Brevil she suggested we put gouda cheese into the mix. I can't tell you where she got that info from or if she just decided to try it on her own but what I can tell you is this… IT IS THE BOMB (it is really good) LOL. That gouda cheese kicks up the flavor of this macaroni dish, I absolutely love it. I believe that you will love it too, try it out for Thanksgiving and let me know what you think.
Watch me make Makawoni Au Graten here:
Makawoni au Graten (Haitian Macaroni and Cheese)
Print Recipe
Ingredients
2 (16 oz) packs of rigatoni or penne pasta
16 cups of water
1 1/2 teaspoon seasoned salt
2 tablespoons of butter
2 (12 oz) cans evaporated milk
1/2 cup finely chopped onions
1/3 cup finely chopped bell peppers
1 garlic clove (crushed)
1 cup mayonnaise
2 cups grated parmesan cheese
3 cups Gouda (Dutch) cheese
Instructions
1
In a large pot salt the 16 cups of water and bring to a boil. Once boiling add pasta and allow it to cook for 10-15 minutes or until al dente. Drain and set pasta aside. Preheat oven to 350℉.
2
In the same pot, on medium heat, sauté butter, garlic, onions and bell peppers for 1-2 minutes or until visibly tender.
3
Add pasta to sautéed ingredients, along with 1 can of evaporated milk and mix well. Then add seasoned salt, mayonnaise, 1 cup grated parmesan, 2 cups gouda and remaining can of evaporated milk to pasta, continue to mix. Salt to taste.
4
Pour pasta mixture into a 15-inch x 10-inch x 2-inch rectangular baking dish, sprinkle remaining cup of Parmesan and Gouda cheese on top layer. Place pan on the middle rack in oven uncovered and bake for 45 minutes to 1 hour or until top is golden brown. Let sit for 10 minutes before serving.
Notes
If you simply cannot find Gouda cheese just use plain ole cheddar, it will still taste good.