I grew up thinking that potato salad was pink because that's the only way I've ever had it. When I finally saw regular potato salad that wasn't pink I thought something was wrong with it until I realized that it was only Haitians that added beets to it (to my knowledge that is). To be honest I love potato salad but I think it is the best with beets, it might be because of the hint of sweetness it adds (I like sugar, hangs head in shame :-D).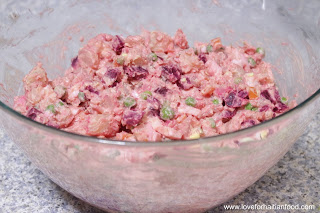 When it comes to dicing the vegetables, I suggest dicing them pretty small for the people who don't like crunch in their potato salad; If you don't mind then hey the world is your oyster.
I used russet potatoes in the video but I have tried this with yukon gold and it came out just as good, so use what ever potatoes you want. I peeled the potatoes and boiled them whole;
I've tried it where I chop them up then boil them which does make it easier but that can alter the cooking time. For it to cook evenly the cubes have to roughly be around the same size; so to avoid some being cooked and others not I just boiled them whole then cubed them later.
I've tried this recipe a couple of times before and now I am happy to share it with you.Since it's summer (or whenever you're reading this LOL) I'm sure you have a barbecue or two to go to, make and bring this as your contribution 🙂
Ingredients
6 small to medium russet potatoes, peeled, cooked and cubed

1/2 a large beet, peeled, roasted and cubed

5-6 medium eggs, boiled and chopped

1 cup cooked sweet green peas

1 large stalk of celery, diced (1/3 cup)

1 large carrot, peeled, boiled and diced (1/2 cup)

1 cup mayonnaise

1/2 onion, finely diced (1/3 cup)

1/4 cup yellow mustard

1/2 teaspoon onion powder

1/2 teaspoon garlic powder

1/2 teaspoon salt

1/4 teaspoon black pepper
Instructions
1
Peel and roast your beet in a 350℉ oven for 45 minutes or until you're able to easily pierce it with a fork. Peel and boil potatoes in salted water for 25 minutes. Cut carrot in half and boil for 10-15 minutes with sweet peas. Boil eggs for about 10 minutes.
2
Once cooked dice up your potatoes, beet, celery, carrots and eggs.
3
To a small bowl combine mayonnaise, mustard, onions, celery, garlic, onion powder, salt, black pepper to make dressing; mix well.
4
To a medium-large bowl add potatoes, beets, eggs, green peas, carrots, dressing and mix well until you get a nice pink color. Chill and serve. Enjoy!