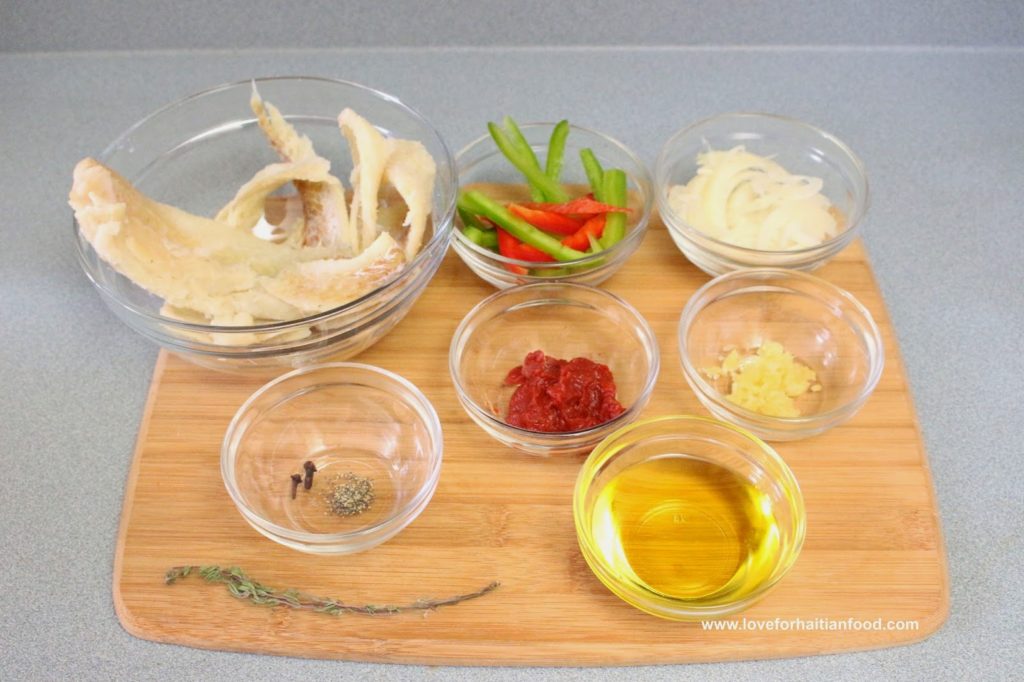 As a child I can honestly say that I really didn't like salt-fish (Salted Codfish) because I was always scared of swallowing bones but now I realize that there were never a huge amount of bones to begin with ( I think it was all in my head).
Mori and banann bouyi which is salt-fish and boiled plantain is a meal that can be eaten for breakfast, lunch or dinner. I don't have a specific time that I like to eat it, I basically have it whenever.
Some tips that I can offer when embarking on this recipe is this: It is very important to properly de-salt your fish or else you will have a super salty end product so please follow the directions as described in the recipe.
I had my salt-fish and boiled plantains with salad and boiled potatoes, my mother sometimes eats hers with boiled yams.
As I mentioned before, I was never a huge fan of salt-fish but now I love it and I hope this recipe will make you love it too.
Watch me make Mori ak Banann bouyi here:
Banann Bouyi (boiled plantain)
Ingredients:
1 green plantain
1 teaspoon salt
Instructions:
Add 3 cups of water and salt to a small pot and bring to a boil. Rinse plantain well under cold water, cut off each end and put 2-3 slits in plantain skin and cut in half.
Add plantain halves to water and cook for 15-20 minutes or until fork tender. Remove skin and phloem from plantain and serve.
Ingredients
1/2 pound salted codfish

1/2 cup of sliced onions

1/2 cup of sliced bell peppers

2 garlic cloves crushed

1 tablespoon tomato paste

pinch of ground black pepper to taste

1/8 clove powder or two cloves

2 sprigs of thyme

1/4 cup olive oil

1 1/2 cup water
Instructions
1
Desalt codfish by placing in a bowl with 8 cups of cold water. Using your hands swirl the codfish in the water to remove salt, do this for about 2 minutes then discard water and repeat the process.
2
In a medium sauté pan on medium to high heat bring 3 cups of water to a boil. Add fish and let boil for 5-10 minutes. Drain and rinse with cold water. Shred fish being sure to remove any bones and set aside.
3
Using the same pan, heat oil and sauté codfish, garlic, onions and peppers for 5-10 minutes. Mix in tomato paste.
4
Add water, ground pepper, cloves and thyme and stir. Cover and let simmer for 5-10 minutes. Serve and enjoy.