Chokola Ayisyen (Haitian Hot Chocolate) is one of those things that I can say definitely sparks my childhood memory. Born in America, I didn't get to spend much time in my parents homeland but when I did, I loved it. I remember going to Haiti at the age of 8, I stayed for a month and almost every morning in that month I would have Chokola ak pen (Haitian Hot chocolate and bread, Haitian bread to be exact. I loved it and till this day I still love it! Just the smell of it instantaneously transports me back to my childhood.
This chocolatey treat is made with unrefined chocolate from Haiti, evaporated milk along with other ingredients that makes it taste great. I'm not sure if you can get the same chocolate in America, your best bet is to have someone who is returning from Haiti to bring some for you. If not you can always try your luck on East 18th Street and Church Ave in Brooklyn, or in Caton Mall located on the corner of Flatbush Avenue and Caton Avenue you will find Haitian women selling products that are exclusive to Haiti. If you don't feel like going on a hunt for unrefined Haitian chocolate I also have a recipe using unsweetened cocoa that mimics the taste of it, not exactly the same but a close second (I will post it very soon).
I love to stay warm with this on those cold winter nights and I hope this will keep you warm as well.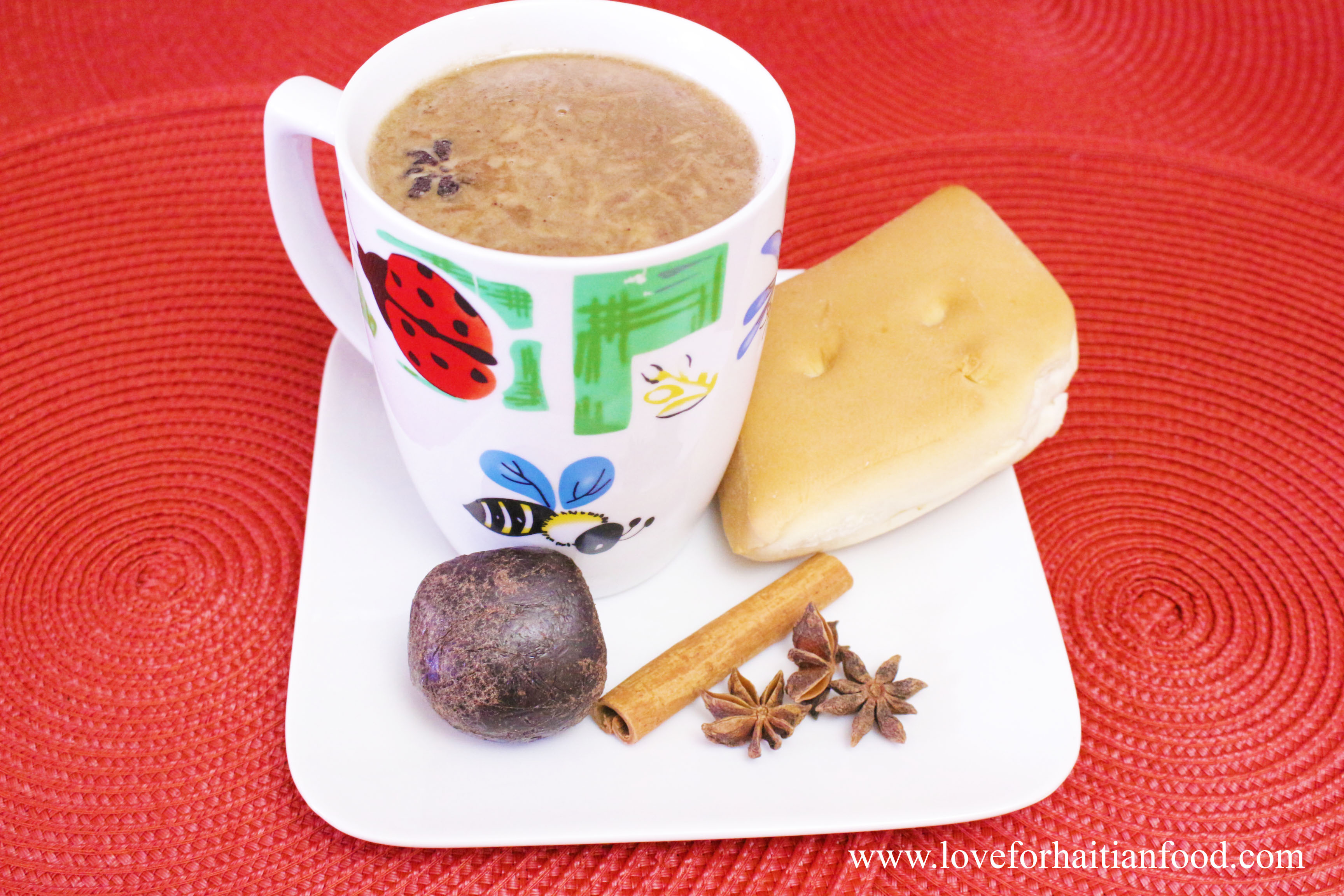 Watch me make Chokola Ayisyen here:
Ingredients
1 ball of unrefined cocoa
1 can of evaporated milk
1/2 cup white sugar or sugar to taste
2 anise star
2 cinnamon sticks
4 cups water
1/2 teaspoon vanilla extract
1/2 teaspoon almond extract
1/8 teaspoon salt
1/4 teaspoon nutmeg
1 tablespoon butter
Instructions
1
To a medium sauce pan on medium to high heat, add water, anise, cinnamon and cocoa and bring to a boil until cocoa has melted. Strain liquid and set aside, discard cocoa remnants.
2
Add liquid back to sauce pan on a medium flame along with milk, sugar, salt, nutmeg, almond, vanilla extracts and butter. Stir well, let simmer for 2-3 minutes then serve and enjoy.