So I know a lot of people are going to say "Bouyon Poul, wth does she mean Bouyon Poul (Chicken soup/stew)?" Trust me guys, I know that bouyon is traditionally made with tèt kabrit (goats head) or beef. But so many people asked me how to make chicken Bouyon cause everyone doesn't eat red meat so I'm accommodating you non red meat eaters in today's post.
Yes, Bouyon poul (chicken soup/stew Haitian style) is now one of my favorites. Practicing making something as many times as I practiced making this would cause anyone to now like something that they may have not liked before. I got the seal of approval from authentic Haitians i.e. my uncle Yves, my grandmother and mother. Believe me, if they say it's good then it's good damn nit!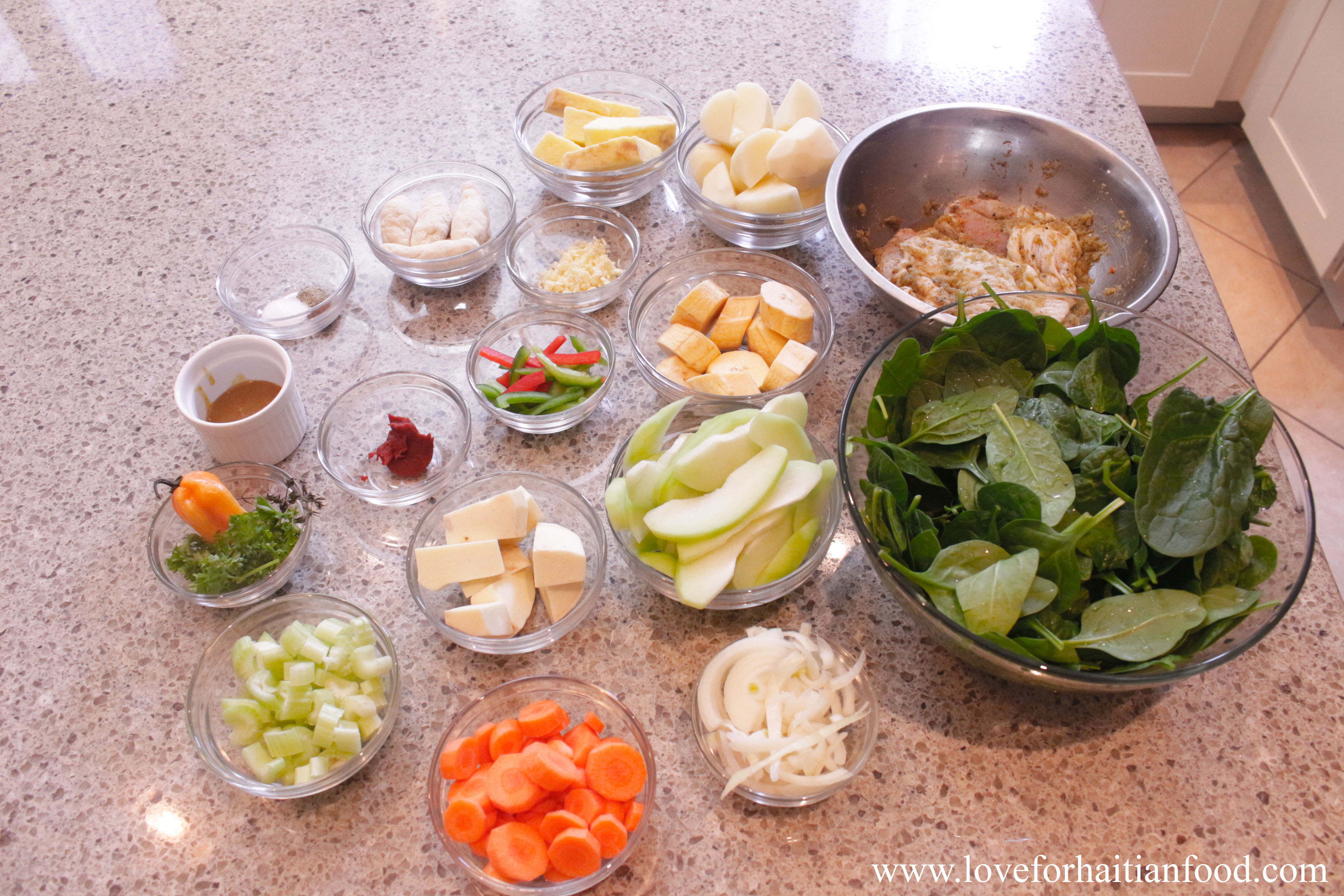 In the notes below I tell you to make your dumplings after peeling and chopping the veggies because it will make everything go so much smoother for you. When you are making the soup the time will breeze by because you prepared everything in advance. Trust me on this!!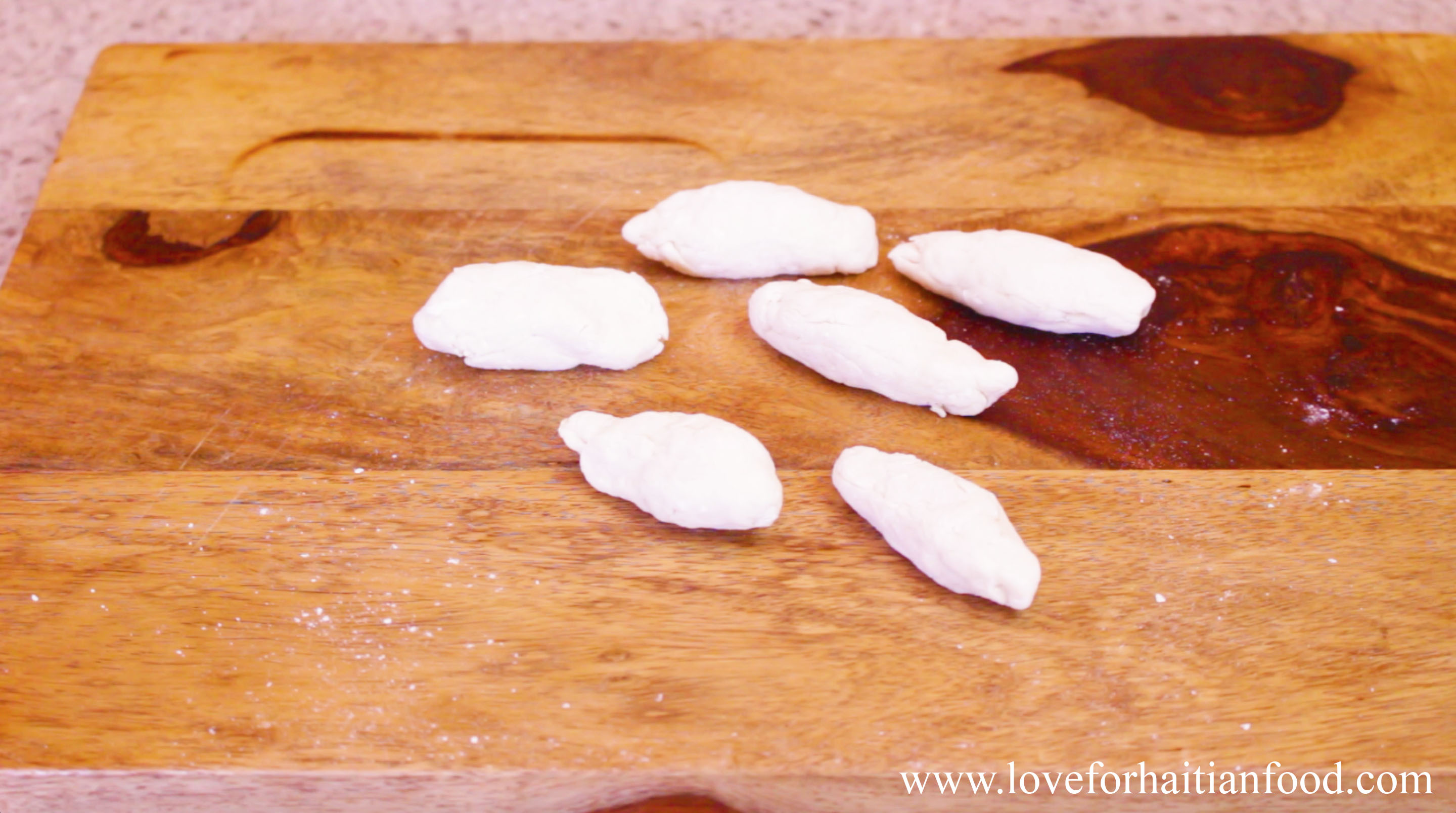 I am super happy to share this recipe with you guys, if you follow my instructions exactly you will be able to make this soup with no problems! I hope you love it as much as I do.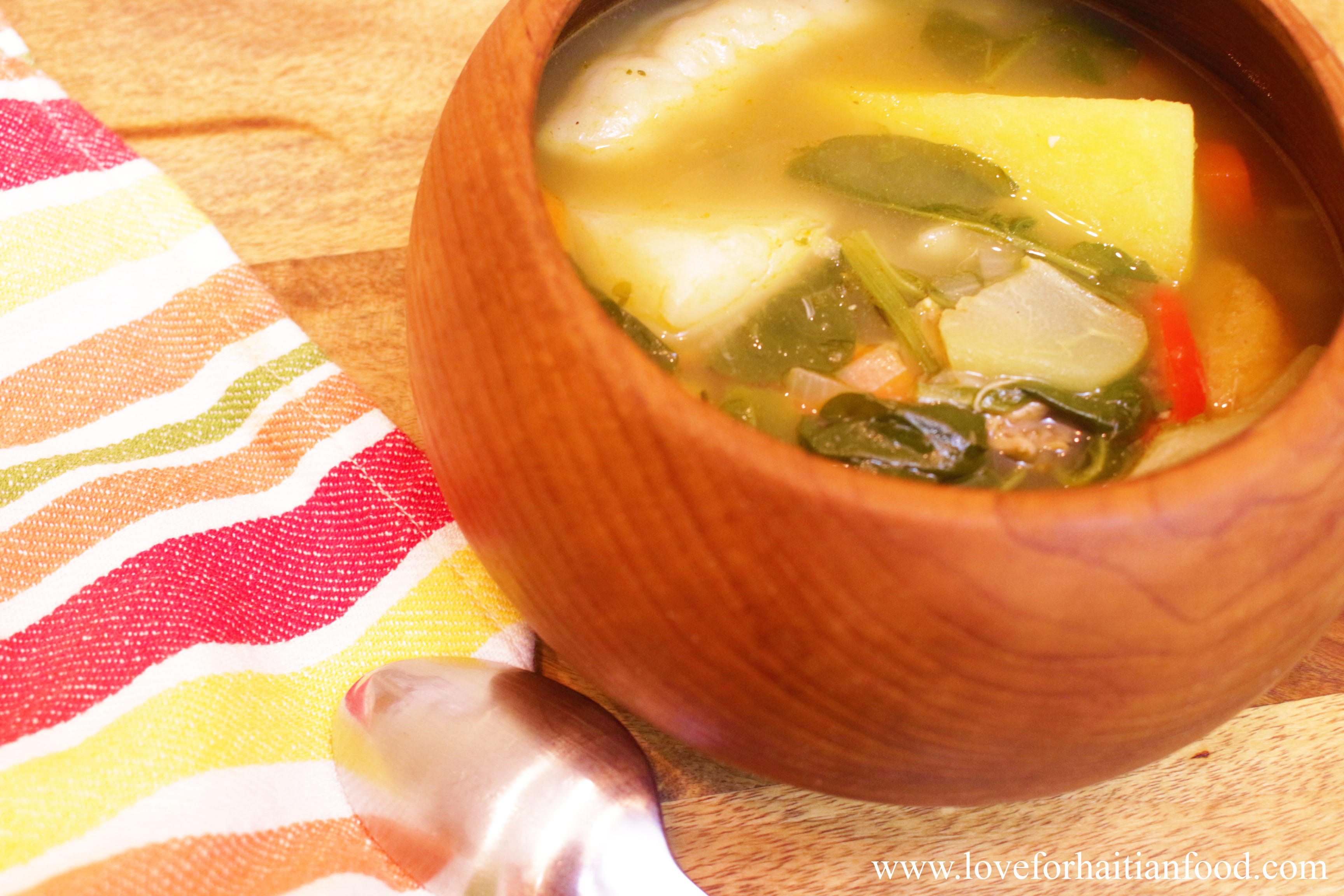 Watch me make Bouyon Poul here:
Chicken Marinate:
1lbs raw Chicken thighs (2 chicken thighs)
1/4 cup epis
1/2 tsp salt
1 tsp garlic powder
1 tsp onion powder
1/4 tsp black pepper
1 tsp salt-free blended herbs
1 lime, sliced in two
Squeeze lime juice over chicken then rub each piece of chicken with one lime half.
Rinse chicken under cold water, discard water.
Slice two slits on either side of chicken.
Add epis and dry seasoning to chicken and mix well. Set aside.
Dumplings:
1/2 cup apf
1/2 tsp salt
3 tablespoons + 1/4-1/2 tsp
Makes 5-6 dumplings
In a medium bowl whisk salt and flour together until well combined.
Add water and mix with a fork. Once dough forms, use hands to feel if it is soft enough. I added  an extra ½ teaspoon of water to the dough because it felt dry to me.
Break a small piece of dough off, knead in your hands for a few seconds then roll between your palms and form dumplings. Cover with plastic wrap and set aside.
Ingredients
1 lbs Chicken thighs, cleaned & marinated (2 chicken thighs)

12 cups water

2-3 celery sticks, sliced

2-3 carrot sliced

1/2 onion, sliced (1/3 cup)

2 cloves garlic, finely chopped or crushed

1/4 cup red bell pepper, sliced

1 tbsp + 1 tsp chicken base or 1 bouillon cube

1/2 tbsp tomato paste

1 teaspoon salt

2 whole cloves or 1/8 tsp clove powder

1/8 tsp black pepper

2 sprigs thyme

3 sprigs of Parsley, only leaves chopped

1 hot pepper

1 chayote squash, sliced (chocho)

2-3 potatoes, peeled & cut in 4

½ lbs yellow yam, peeled & cut into medium sized pieces

½ lbs yautia (malanga), peeled & cut into medium sized pieces

1 green plantain, peeled & sliced diagonally
Instructions
1
On a medium to high flame add water, chicken, celery, carrots, onions, chicken and boil for 20 minutes. After that time has elapsed, remove chicken and set aside to cool.
2
Add garlic, bell peppers, chicken base, tomato paste, salt, clove powder, black pepper, parsley, thyme, hot pepper and mix. Salt to taste.
3
Add chayote, yellow yam, plantains, potatoes, malanga, dumplings and boil for 15 minutes.
4
While that cooks shred your chicken, discard the skin, fat, veins etc.
5
Lower flame to low, add shredded chicken and spinach to the pot, cover and let it boil for 10 minutes. Serve and enjoy!
Notes
* Have limes on hand when peeling the potatoes, yellow yams, malanga (yautia). Rub limes all over root vegetables as you peel them to minimize the browning of them. * Keep potatoes in cold water. * Have all vegetables peeled and chopped first * Make your dumplings after chopping the veggies