So you thought putting hotdogs in Spaghetti was weird, well we put them in eggs too. I know you're wondering what is it with Haitians and hotdogs?? What can I say, they're inexpensive, accessible and we really like em!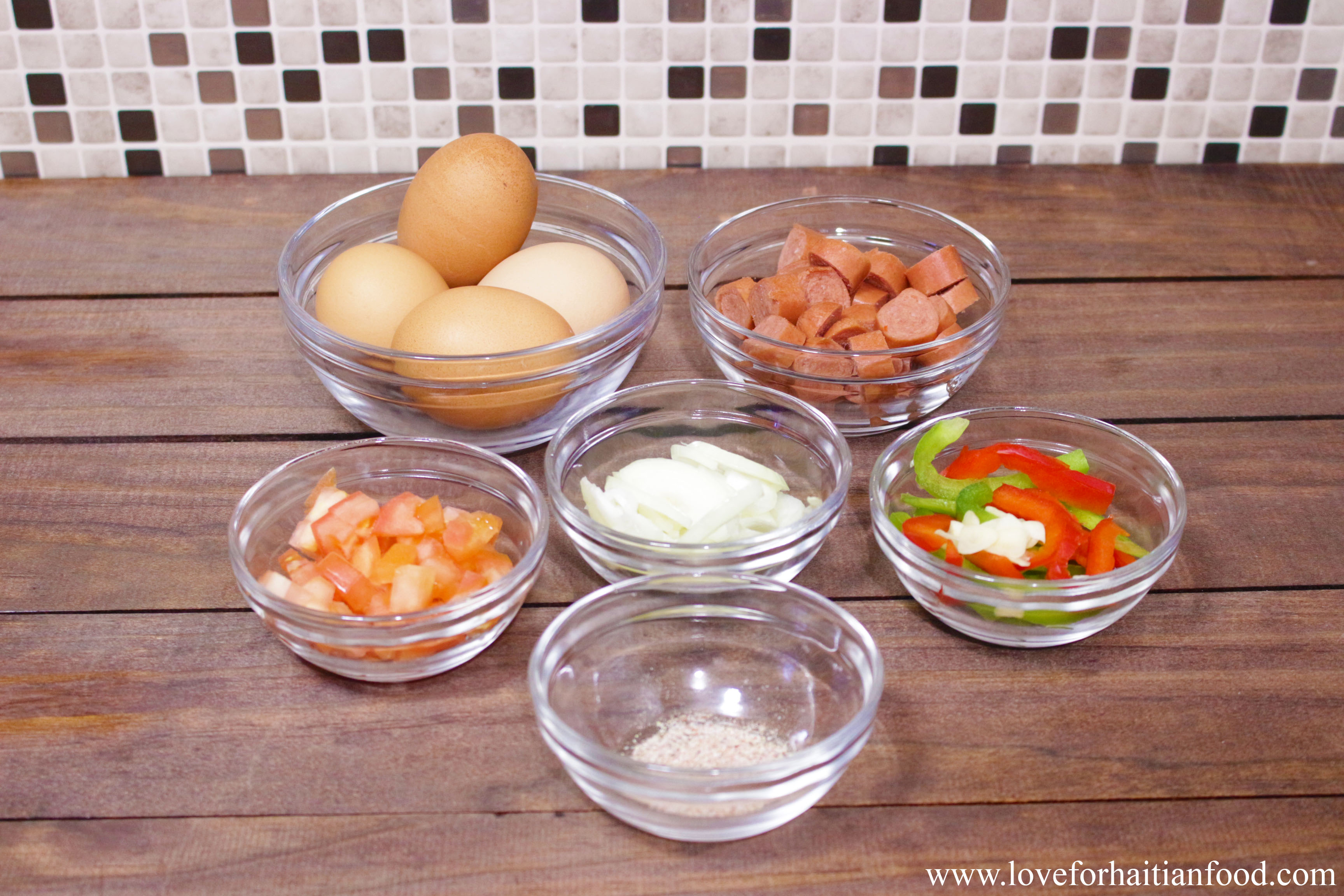 If you want to use another meat or no meat, it's your world. To tell you the truth I feel the star in this dish are the onions, it gives these eggs a distinct taste. In my opinion I wouldn't call them Haitian style eggs without onions, but that's just me. Another thing that you should know about this dish is that these eggs are not supposed to be cooked in that fluffy IHOP eggs style. They are kinda supposed to be darker than typical scrambled eggs. I would call these a cross between scrambled eggs and an omelette. This is a typical breakfast in a Haitian household accompanied by Haitian bread or boiled green plantains (I feel the boiled plantains really gives it that extra Haitian flavor). Whichever way you decide to make these, I hope you enjoy it!!
Watch me make Haitian style eggs here:
Ingredients
4 eggs
2 hotdogs, sliced
¼ cup sliced bell peppers (red or green)
¼ cup sliced onions
1 small clove of garlic, crushed
½ roma tomato diced (heaping ¼ cup)
½ teaspoon seasoned salt
1 ½ tablespoon oil
Instructions
1
Crack eggs into a bowl, beat, add seasoned salt and continue beating until well combined.
2
On medium heat, add oil, hotdogs and sautue for about 2 minutes or until hotdogs have a bit of color on them.
3
Add onions, peppers, garlic and continue mixing for about 2 minutes then add beaten eggs and cook evenly, flip if necessary. Serve with Haitian bread or boiled green plantains.